Tipper body with thermal insulation
Schmitz Cargobull is now offering the M.KI tipper truck body with thermal insulation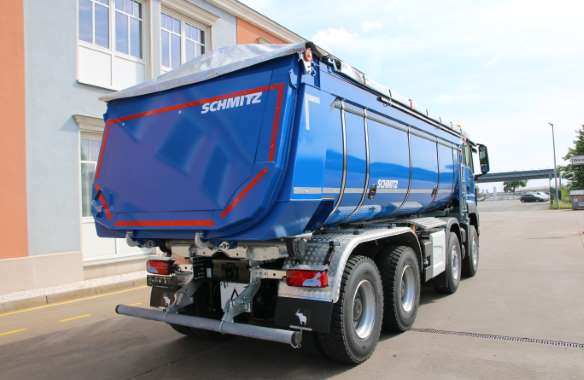 June 2020 – Schmitz Cargobull is now offering the M.KI tipper truck body with thermal insulation, thereby expanding its portfolio to include a new insulated option. The thermally insulated body, which has a capacity of 18 m3, is ideally designed to transport smaller quantities of tarmac.

M.KI tipper truck body with thermal insulation
Road construction companies have seen a rise in the requirements for tarmac transport over recent years. The body has to be thermally insulated and must also have a heat-resistant cover to prevent heat loss out the top. Before tipping, the quality of the tarmac must be able to be checked with a valid temperature measurement.
For this reason, Schmitz Cargobull now also offers the M.KI truck tipper body with thermal insulation. The thermal insulation has only added around 195 kg in weight to the trailer. The smaller volumes, improved versatility and manoeuvrability are particularly handy in confined traffic conditions, as is often the case on construction sites.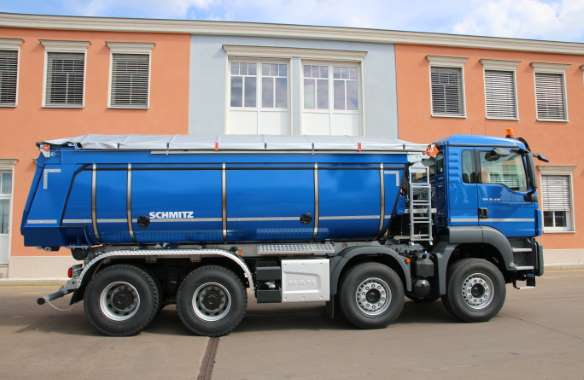 The M.KI truck tipper body with full thermal insulation incorporates Schmitz Cargobull's extensive experience in the field of temperature-controlled goods transport. An optimised body shape design ensures a low centre of gravity, thereby increasing tilt stability. The premium, temperature-resistant body cover has an electric sliding tarpaulin, which can be operated safely and conveniently from ground level. The model range includes bodies with various floor thicknesses with a side wall height of 1,460 mm in different rear wall designs and offers 18 m3 in capacity.
About Schmitz Cargobull

Schmitz Cargobull is the leading manufacturer of semi-trailers for temperature-controlled freight, general cargo and bulk goods in Europe and a pioneer in digital solutions for trailer services and improved connectivity. The company also manufactures transport refrigeration machines for refrigerated semi-trailers for temperature-controlled freight transport. With a comprehensive range of services from financing, spare parts supply, service contracts and telematics solutions to used vehicle trading, Schmitz Cargobull supports its customers in optimising their total cost of ownership (TCO) and digital transformation. Schmitz Cargobull was founded in 1892 in Münsterland, Germany. The family-run company produces around 60,000 vehicles per year with over 6,000 employees and generated a turnover of around 2.6 billion euros in the 2022/23 financial year. The international production network currently comprises ten plants in Germany, Lithuania, Spain, England, Turkey, Slovakia and Australia.

The Schmitz Cargobull press team:
| | |
| --- | --- |
| Anna Stuhlmeier: | +49 2558 81-1340 I anna.stuhlmeier@cargobull.com |
| Andrea Beckonert: | +49 2558 81-1321 I andrea.beckonert@cargobull.com |
| Silke Hesener: | +49 2558 81-1501 I silke.hesener@cargobull.com |
Tipper body with thermal insulation

Tipper body with thermal insulation 1

Tipper body with thermal insulation 2

Tipper body with thermal insulation 3

Tipper body with thermal insulation 4

Tipper body with thermal insulation 5