EcoGeneration curtainsider is a finalist in the German Sustainability Prize Design 2022
Finalists embody exemplary and commendable sustainability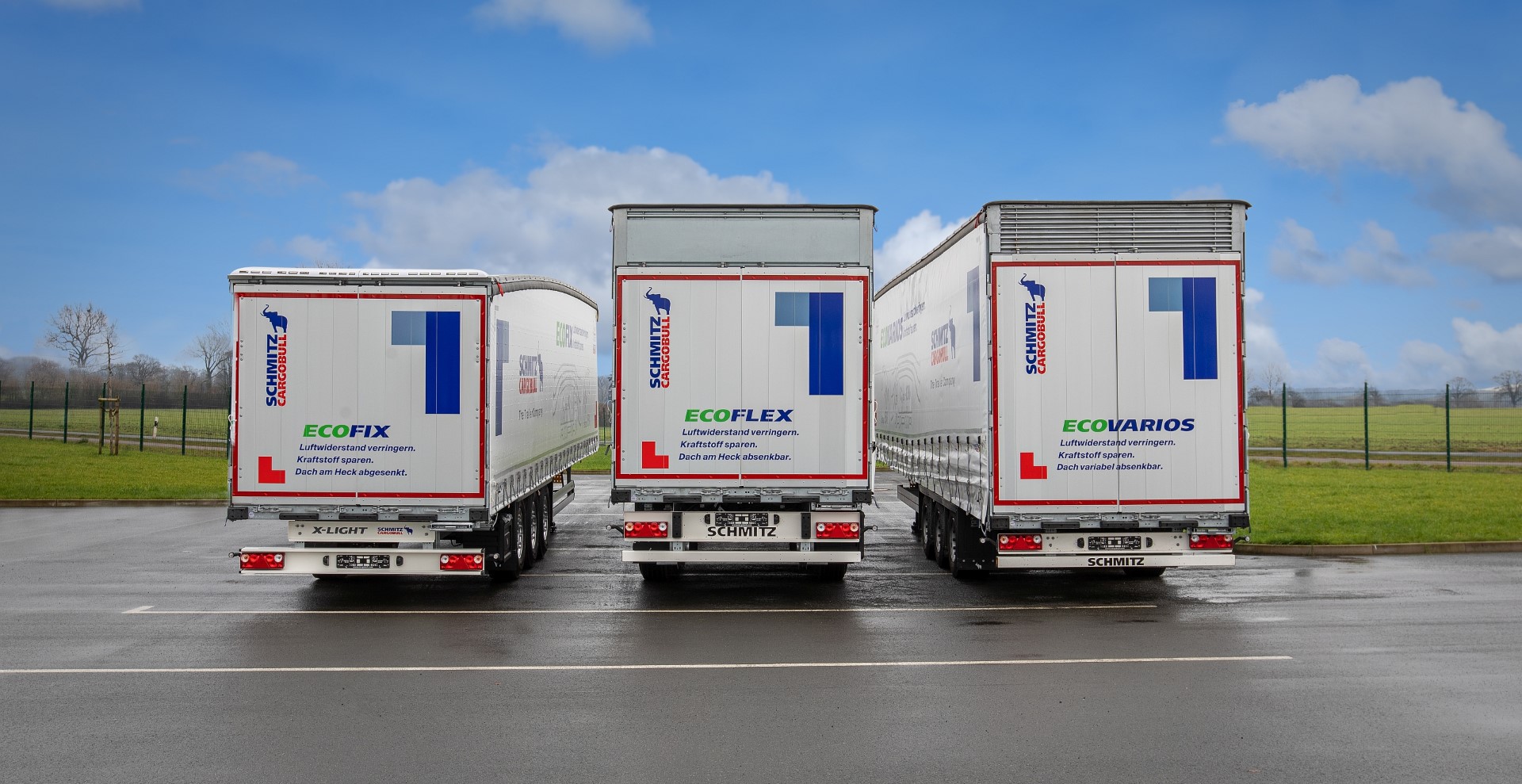 September 2021 – Selected from over 1,000 applications, Schmitz Cargobull's aerodynamic EcoGeneration curtainsiders have been nominated for the German Sustainability Prize Design 2022, and are now firm finalists. Schmitz Cargobull presented the EcoGeneration vehicle concept at the beginning of 2021 with the motto "Rethinking sustainability". The downwards sloping body of the aerodynamic S.CS curtainsider semi-trailer available in three different versions EcoFIX, EcoFLEX and EcoVARIOS, drastically reduces air resistance.
In practice, it has achieved fuel savings of more than 10%.
Finalists embody exemplary and commendable sustainability
In just a few short steps, the full height of the cargo area in the EcoFLEX and EcoVARIOS models can be used by raising the roof at the back. This concept offers huge potential savings, particularly for heavy transport jobs that do not require the full height of the cargo area. All of this without significantly changing the trailer functions, transport performance and the familiar handling. EcoGeneration vehicles are able to significantly reduce fuel costs and the carbon footprint.
The German Sustainability Prize Design 2022 recognises the best design solutions from all areas of day-to-day life. Here, the product's physical design is not the only factor; it is more about developing any feasible product, system or service with the aim of making the biggest positive impact on sustainability.
The assessment teams from econcept and Kearney evaluated the applications and first selected the nominees, and then the finalists. The finalists embody exemplary and commendable sustainability. The winners will be announced at the awards ceremony during the Sustainability Congress in Düsseldorf on 2 December 2021.


Further information about the aerodynamic priciple and handling of the EcoGeneration can be found at:
About Schmitz Cargobull
With an annual production of around 61,000 trailers and with approximately 6,900 employees, Schmitz Cargobull AG is Europe's leading manufacturer of semi-trailers, trailers and truck bodies for temperature-controlled freight, general cargo and bulk goods. The company achieved sales of around €2.3 billion in the 2021/22 financial year. As a pioneer in the industry, the North German company developed a comprehensive brand strategy early on and consistently established quality standards spanning every level: from research and development, through production and service contracts, to trailer telematics, financing, spare parts, and used vehicles.


The Schmitz Cargobull press team:
| | |
| --- | --- |
| Anna Stuhlmeier: | +49 2558 81-1340 I anna.stuhlmeier@cargobull.com |
| Andrea Beckonert: | +49 2558 81-1321 I andrea.beckonert@cargobull.com |
| Silke Hesener: | +49 2558 81-1501 I silke.hesener@cargobull.com |
Image: EcoGeneration curtainsider is a finalist in the German Sustainability Prize Design 2022 

Image: EcoGeneration_EcoFlex_is a finalist in the German Sustainability Prize Design 2022

Press Release: EcoGeneration curtainsider is a finalist in the German Sustainability Prize Design 2022

ZIP: Images and Press Release