Schmitz Cargobull entrega el primer EcoDuo en España
El EcoDuo de lona S.CS ha sido adquirido por el grupo logístico Lopezmar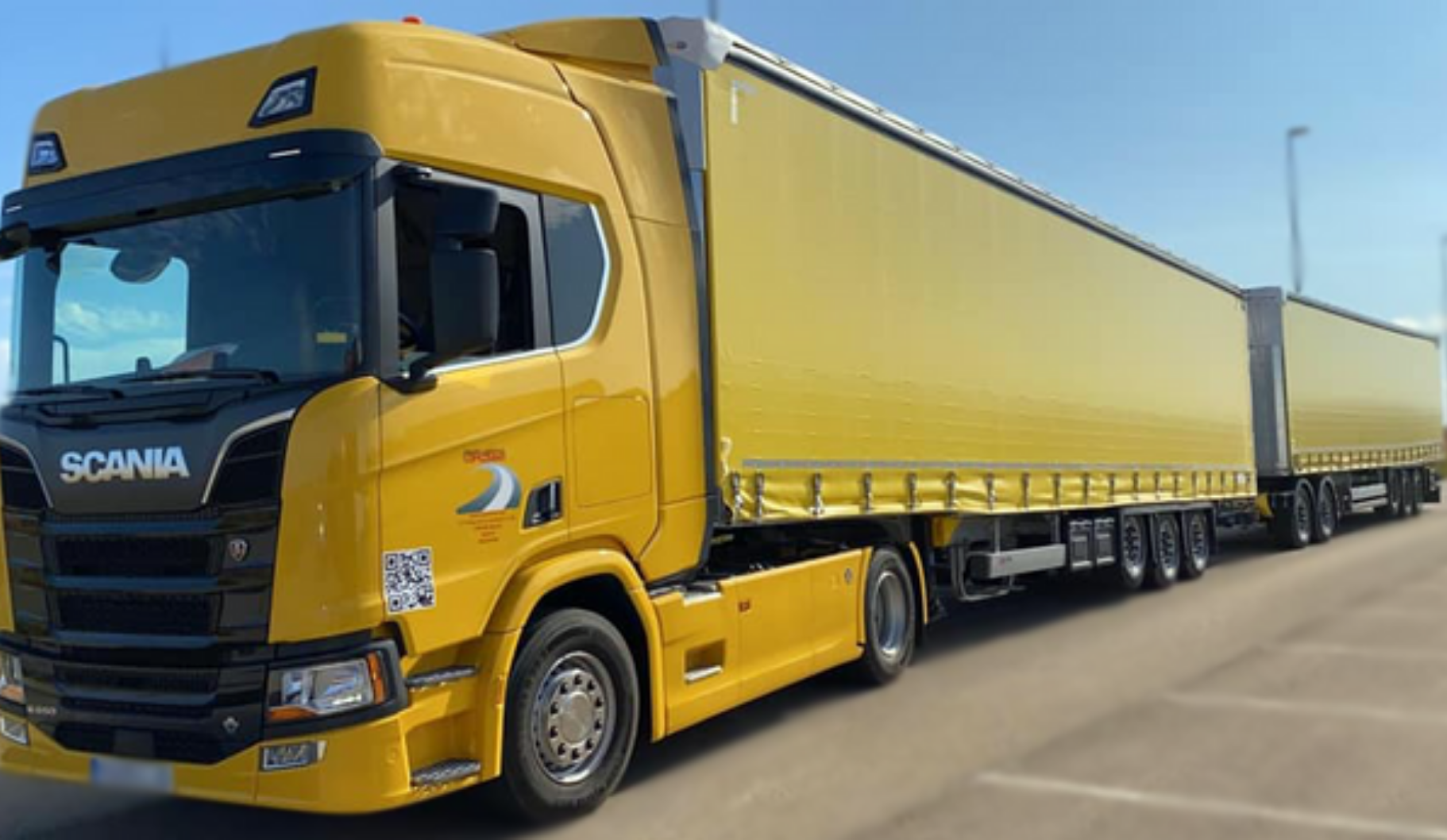 Enero de 2021 - El operador logístico Lopezmar ubicado en Guadalajara ha recogido el primer EcoDuo de lona S.CS de Schmitz Cargobull fabricado en la planta zaragozana situada en Figueruelas. Javier Martínez Martín, propietario de la compañía de transporte frigorífico y carga general a nivel nacional e internacional, con más de 60 años de experiencia en el sector puntualiza «Somos la tercera generación de una empresa familiar con más de 160 empleados y como tal, nos hemos tenido que ir adaptando a los cambios. Integrar en nuestra flota de vehículos un semirremolque de lona EcoDuo de Schmitz Cargobull nos permite cubrir las necesidades actuales de nuestros clientes, reducir los costes en un 20% y contribuir a la reducción de emisiones de CO2. Con la adquisición completamos una flota de 131 vehículos destinados al retail y consumo».
El conjunto de semirremolques de lona de 33 metros de largo con equipamiento especial permite formar la combinación EcoDuo: dos semirremolques estándar unidos mediante un Dolly. El peso total del primer semirremolque es de 40 toneladas, mientras que el peso del segundo asciende a las 30 toneladas.
The new A.WF trailer swap chassis, Z.WF central axle swap chassis and W.BO swap box
Según Miguel Iglesias, director Comercial de Schmitz Cargobull Ibérica, «Como compañía que opera a nivel internacional, hemos sido fuertes impulsadores de los sistemas modulares. Llevamos más de dos años comercializando este tipo de conjuntos en los países escandinavos, con especial penetración en Suecia y Finlandia, donde ya hemos vendido unas 100 unidades. Es una solución clara que nos permite luchar contra el cambio climático, la presión en las carreteras y la escasez de conductores».
Schmitz Cargobull aboga por introducir en toda Europa un concepto de transporte que alivie la presión sobre la infraestructura existente y cumpla las normas actuales del sector del transporte —especialmente en el transporte combinado— y sea ideal para el uso fuera de las ciudades.
«Necesitamos soluciones que contrarresten el cambio climático a pesar del aumento del volumen del transporte. Trabajar en un replanteamiento radical sobre este tema era casi imprescindible y con el EcoDuo conseguimos reducir las emisiones de CO2 un 25%, atacando directamente uno de los factores esenciales del cambio climático. También se ha reducido en un 14% la carga por eje y con ello el consumo de combustible», comenta Javier Espliego, Responsable de grandes flotas.
«Una de las grandes ventajas del EcoDuo es que las empresas de transporte como nosotros podemos seguir utilizando la flota actual para realizar la combinación de vehículos, por lo que no necesitamos realizar grandes inversiones en este sentido. También posee una capacidad total de carga mucho mayor. Además, puedes separar el conjunto de vehículos y utilizarlos de manera individual», matiza Javier Martínez Martín, responsable del Grupo Lopezmar.
About Schmitz Cargobull

Schmitz Cargobull is the leading manufacturer of semi-trailers for temperature-controlled freight, general cargo and bulk goods in Europe and a pioneer in digital solutions for trailer services and improved connectivity. The company also manufactures transport refrigeration machines for refrigerated semi-trailers for temperature-controlled freight transport. With a comprehensive range of services from financing, spare parts supply, service contracts and telematics solutions to used vehicle trading, Schmitz Cargobull supports its customers in optimising their total cost of ownership (TCO) and digital transformation. Schmitz Cargobull was founded in 1892 in Münsterland, Germany. The family-run company produces around 60,000 vehicles per year with over 6,000 employees and generated a turnover of around 2.6 billion euros in the 2022/23 financial year. The international production network currently comprises ten plants in Germany, Lithuania, Spain, England, Turkey, Slovakia and Australia.

The Schmitz Cargobull press team:
| | |
| --- | --- |
| Anna Stuhlmeier: | +49 2558 81-1340 I anna.stuhlmeier@cargobull.com |
| Andrea Beckonert: | +49 2558 81-1321 I andrea.beckonert@cargobull.com |
| Silke Hesener: | +49 2558 81-1501 I silke.hesener@cargobull.com |
Picture 1-A.WF 1

Picture 2-A.WF 2 

Picture 3-W.BO 1

Picture 4-W.BO 2

Picture 5-Z.WF 1

Picture 6-Z.WF A.WF 1

Picture 7-Z.WF A.WF 2

Word file