Light and low – trailers for high-volume transport
Schmitz Cargobull offers the S.KI LIGHT tipper semi-trailer with an aluminium box body specially for the transport of agricultural products. The tapered frame design provides for low loading, floor and overall heights, while the fifth wheel height remains unchanged.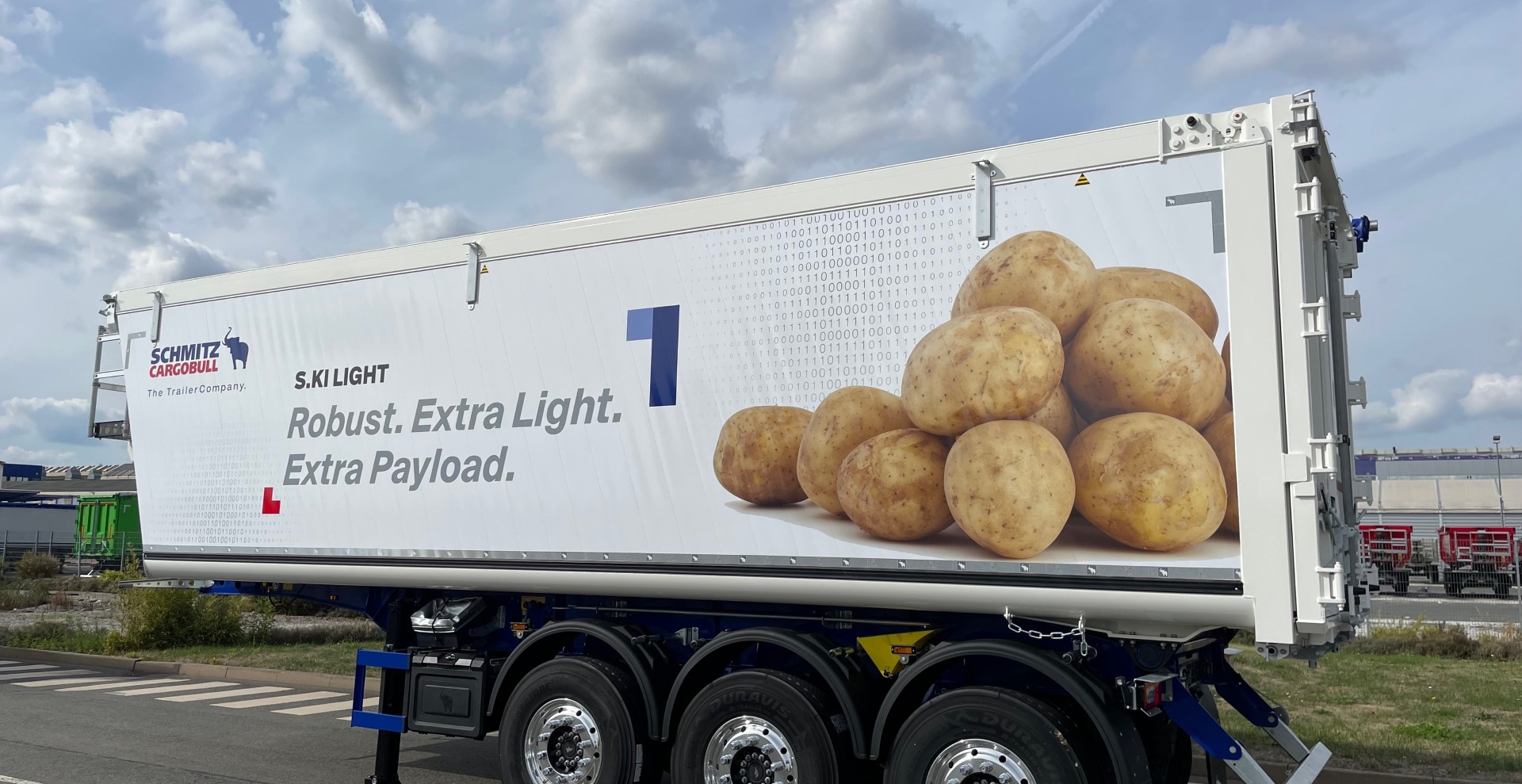 September 2022 – This further development of the S.KI LIGHT tipper trailer is Schmitz Cargobull's response to the growing demand for trailers for high-volume transport, specifically of agricultural products. Since 2018, the trailer with a tapered chassis has also been available with the proven Schmitz Cargobull axle. Alongside the system lengths of 9.6 m and 10.5 m, the 8.2-m system length now joins the tapered chassis series.
S.KI LIGHT with an aluminium box body specially for the transport of agricultural products
The S.KI LIGHT tipper semi-trailer impresses with its larger volume and unchanged system length, thus offering a better payload/volume ratio for
loads with a low bulk density. With the shorter system length of 8.2 m, the trailer has the same loading volume as the longer previous versions, but offers improved manoeuvrability. A lower unladen weight and a 160-mm reduction in side loading height can be achieved with an unchanged fifth wheel height and the same body volume. This makes side loading even easier and helps to protect against damage. This practical solution offers a wider scope for application and increases the potential payload. Thanks to the lower loading edge, loading and unloading pallets through the rear wall is also easier than even before.
The reduced overall height also means that the trailer's centre of gravity was able to be lowered. This increases the driving stability, and provides for better road holding when cornering, while also improving stability during the tipping process. It also ensures safe passage through hall and barn doors and safe driving under silo loading stations.
The stepframe model of the S.KI LIGHT AK tipper semi-trailer is available with a body measuring 45 to 59 m3. The chassis frame features an 80-mm offset in the front area at the
height of the landing gear. The tapered chassis design and special contour under the body enables the chassis to be recessed into the body floor at the front. High-volume bodies with the popular, straight chassis frame will remain on the market.
About Schmitz Cargobull
With an annual production of around 61,000 trailers and with approximately 6,900 employees, Schmitz Cargobull AG is Europe's leading manufacturer of semi-trailers, trailers and truck bodies for temperature-controlled freight, general cargo and bulk goods. The company achieved sales of around €2.3 billion in the 2021/22 financial year. As a pioneer in the industry, the North German company developed a comprehensive brand strategy early on and consistently established quality standards spanning every level: from research and development, through production and service contracts, to trailer telematics, financing, spare parts, and used vehicles.


The Schmitz Cargobull press team:
| | |
| --- | --- |
| Anna Stuhlmeier: | +49 2558 81-1340 I anna.stuhlmeier@cargobull.com |
| Andrea Beckonert: | +49 2558 81-1321 I andrea.beckonert@cargobull.com |
| Silke Hesener: | +49 2558 81-1501 I silke.hesener@cargobull.com |
Press information + Images: S.KI LIGHT

Press information: S.KI LIGHT

Image 1

Image 2

Image 3