New curtainsider semi-trailer - S.CS FREEPOST for the UK and Irish markets
Schmitz Cargobull has added a new trailer to its General Cargo portfolio.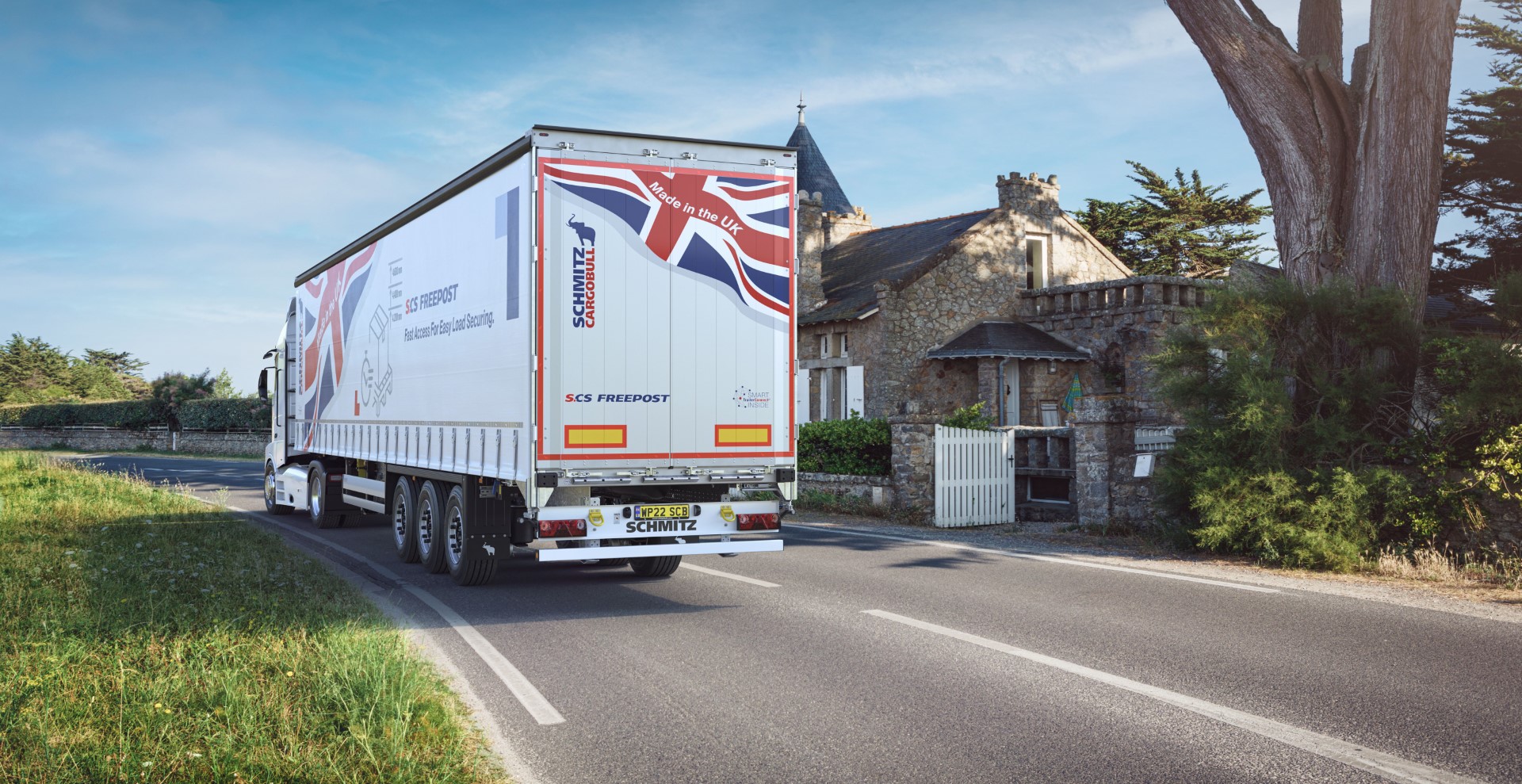 November 2022 - Schmitz Cargobull, Europe's leading manufacturer of semi-trailers, has added a new product to its General Cargo portfolio. The new S.CS FREEPOST curtainsider semi-trailer has been specially developed to meet the requirements of the UK and Irish markets, without the need for sliding posts and is manufactured at the Schmitz Cargobull UK production plant in Manchester.
Body without sliding posts for free and safe side loading
The United Kingdom and the Republic of Ireland are both important transport and logistics locations. Schmitz Cargobull therefore offers a product portfolio from the new Manchester plant that is specifically tailored to the needs of UK and Irish transport operators.
"We successfully launched production, at our Manchester plant, in June 2021 with the production of the market specific S.BO PACE and S.CS FIXED ROOF curtainsider semi-trailers. We are now pleased to be able to offer our customers the S.CS FREEPOST curtainsider semi-trailer, without the need of sliding posts, from our proven modular system," explains Paul Avery, Managing Director - Operations at Schmitz Cargobull UK.
Matthias Muffert, Head of Product Management General Cargo at Schmitz Cargobull, adds: "Before the start of series production, we subjected the S.CS FREEPOST to a series of rigorous tests. The vehicle, which is equipped with a fixed aluminium roof, galvanised steel cant rails and a reinforced chassis structure, also meets the strict TÜV test requirements, with its low tare weight, and is certified to DIN EN 12642 Code XL. Our customers can rely on a high-quality curtainsider with maximum safety for general freight transport."
In addition to high body stability, the design of the S.CS FREEPOST is also focused on handling, the safety of the goods and the safety of the driver and loaders. It is available in different heights from 4,200 mm to 4,800 mm.
The S.CS FREEPOST does not require any sliding posts and offers the driver-free, lateral loading and unloading with a side aperture height of up to 3,200 mm. To facilitate unloading, the curtain can be tensioned from both the front and the rear. Additional driver safety is provided by the Schmitz Cargobull Susi-Rail, with which the electrical and pneumatic connections can be moved to the edge of the trailer and hence trailer coupling can be made without climbing between the tractor and trailer.
Flexible load securing points, with continuous lashing holes in the side rave and an optional 16 pairs of 4t lashing rings are available for optimum load securing. Load shift can be prevented by optional load securing straps, which are tensioned from the rave to the roof track. Additional security against unauthorised access is provided by a 1.8 metre high anti-slash mesh integrated inside the curtains.
Like all Schmitz Cargobull trailers, the S.CS FREEPOST is also equipped with the proven repair-friendly MODULOS chassis with a 10-year guarantee against rust-through. The chassis is complemented by the ROTOS axles and suspension, which are guaranteed for 1,000,000 km or six years*.
The trailer is also fitted with the TrailerConnect® telematics system from Schmitz Cargobull, which is fitted as standard ex-works. TrailerConnect® offers intelligent connectivity and supports rapid diagnosis and processing of the collected data from all components.

*depending on which comes first
About Schmitz Cargobull

Schmitz Cargobull is the leading manufacturer of semi-trailers for temperature-controlled freight, general cargo and bulk goods in Europe and a pioneer in digital solutions for trailer services and improved connectivity. The company also manufactures transport refrigeration machines for refrigerated semi-trailers for temperature-controlled freight transport. With a comprehensive range of services from financing, spare parts supply, service contracts and telematics solutions to used vehicle trading, Schmitz Cargobull supports its customers in optimising their total cost of ownership (TCO) and digital transformation. Schmitz Cargobull was founded in 1892 in Münsterland, Germany. The family-run company produces around 60,000 vehicles per year with over 6,000 employees and generated a turnover of around 2.6 billion euros in the 2022/23 financial year. The international production network currently comprises ten plants in Germany, Lithuania, Spain, England, Turkey, Slovakia and Australia.

The Schmitz Cargobull press team:
| | |
| --- | --- |
| Anna Stuhlmeier: | +49 2558 81-1340 I anna.stuhlmeier@cargobull.com |
| Andrea Beckonert: | +49 2558 81-1321 I andrea.beckonert@cargobull.com |
| Silke Hesener: | +49 2558 81-1501 I silke.hesener@cargobull.com |
Image 1: The new S.CS FREEPOST

Image 2: The new S.CS FREEPOST

Image 3: The new S.CS FREEPOST

Image 4: The new S.CS FREEPPOST

Image 5: The new S.CS FREEPOST

Press Release: S.CS FREEPOST for the UK and Irish markets

ZIP-file: Press Release and Images