Schmitz Cargobull receives German Award for Sustainability Projects 2023
First place for the all-electric S.KOe COOL semi-trailer in the 'Technology – Energy' category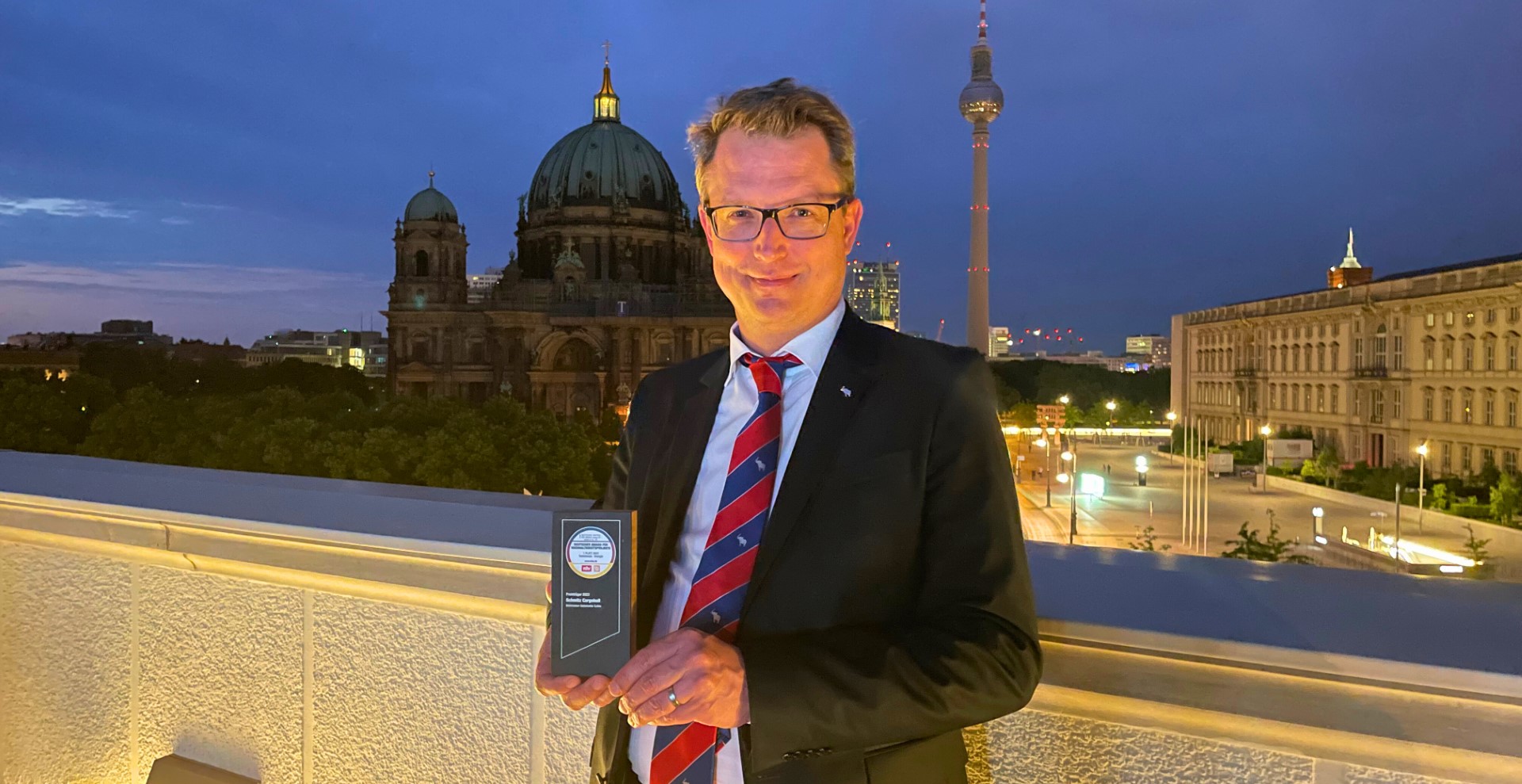 June 2023 - The German Institute for Service Quality, DUP Unternehmer-Magazin and news channel ntv have given Schmitz Cargobull's all-electric S.KOe COOL semi-trailer refrigerated box the top award in the 'Technology – Energy' category at this year's German Award for Sustainability Projects.
Marnix Lannoije, Director of Research and Development at Schmitz Cargobull, accepted the prize at the official award ceremony in Berlin on 6 June.


S.KOe COOL - sustainable and energy-efficient transport solution
"Schmitz Cargobull has been investing in research and development for sustainable and energy-efficient transport solutions for many years. We are delighted that the all-electric S.KOe COOL refrigerated box has won this award, recognising it as a transport solution that can make a significant contribution to reducing the CO2 footprint," said Lannoije. "The award is for the entire team and underlines our commitment to sustainable cutting-edge technology. At the same time, it is also a mandate for us to continue offering customers practical transport solutions that pay off."

The all-electric S.KOe COOL semi-trailer is equipped with a purely electric refrigeration unit with integrated power electronics and a high-voltage battery system, as well as an axle generator, allowing it to operate emission-free. The electric vehicle is also extremely quiet, enabling deliveries in urban areas in the early morning hours as well as in the late evening. The batteries on the landing gear replace the diesel tank and also offer the option of installing an additional pallet box with space for 36 pallets. The payload of the all-electric refrigerated box with high-voltage battery and e-axle is roughly the same as that of a refrigerated trailer with a diesel unit. The additional weight of the battery on the all-electric refrigerated trailer is almost completely compensated for by the elimination of the generator.

The electric Schmitz Cargobull trailer axle recuperates energy during braking, extending the operating time of the refrigeration unit or reducing the recharging times of the battery via the power grid. In practical use in delivery traffic, fuel savings of five per cent were achieved in combination with a diesel-powered tractor. The generator output of the electric axle is precisely matched to the requirements of the refrigeration machine. The system is fully integrated into the Schmitz Cargobull telematics, so that the battery charge status, remaining range and remaining charging time can be monitored via the telematics portal.

At the German Award for Sustainability Projects, initiatives from all economic sectors were honoured under the patronage of Brigitte Zypries, former Federal Minister of Justice and Economics. A total of 283 companies or projects were nominated, 69 of which won awards. The jury judged the sustainability projects on economic and environmental goals, such as raw material efficiency, recycling and nature conservation, and social objectives including education, health and equal opportunities.
About Schmitz Cargobull

Schmitz Cargobull is the leading manufacturer of semi-trailers for temperature-controlled freight, general cargo and bulk goods in Europe and a pioneer in digital solutions for trailer services and improved connectivity. The company also manufactures transport refrigeration machines for refrigerated semi-trailers for temperature-controlled freight transport. With a comprehensive range of services from financing, spare parts supply, service contracts and telematics solutions to used vehicle trading, Schmitz Cargobull supports its customers in optimising their total cost of ownership (TCO) and digital transformation. Schmitz Cargobull was founded in 1892 in Münsterland, Germany. The family-run company produces around 60,000 vehicles per year with over 6,000 employees and generated a turnover of around 2.6 billion euros in the 2022/23 financial year. The international production network currently comprises ten plants in Germany, Lithuania, Spain, England, Turkey, Slovakia and Australia.

The Schmitz Cargobull press team:
| | |
| --- | --- |
| Anna Stuhlmeier: | +49 2558 81-1340 I anna.stuhlmeier@cargobull.com |
| Andrea Beckonert: | +49 2558 81-1321 I andrea.beckonert@cargobull.com |
| Silke Hesener: | +49 2558 81-1501 I silke.hesener@cargobull.com |
Image: Marnix Lannoije, Director of Research and Development, accepted the German Award for Sustainability Projects 2023

Press Release: "Schmitz Cargobull receives German Award for Sustainability Projects 2023"