Emissions-free and sustainable solution for temperature-controlled transport: the S.KOe COOL all-electric box body semi-trailer
100% performance - 0 emissions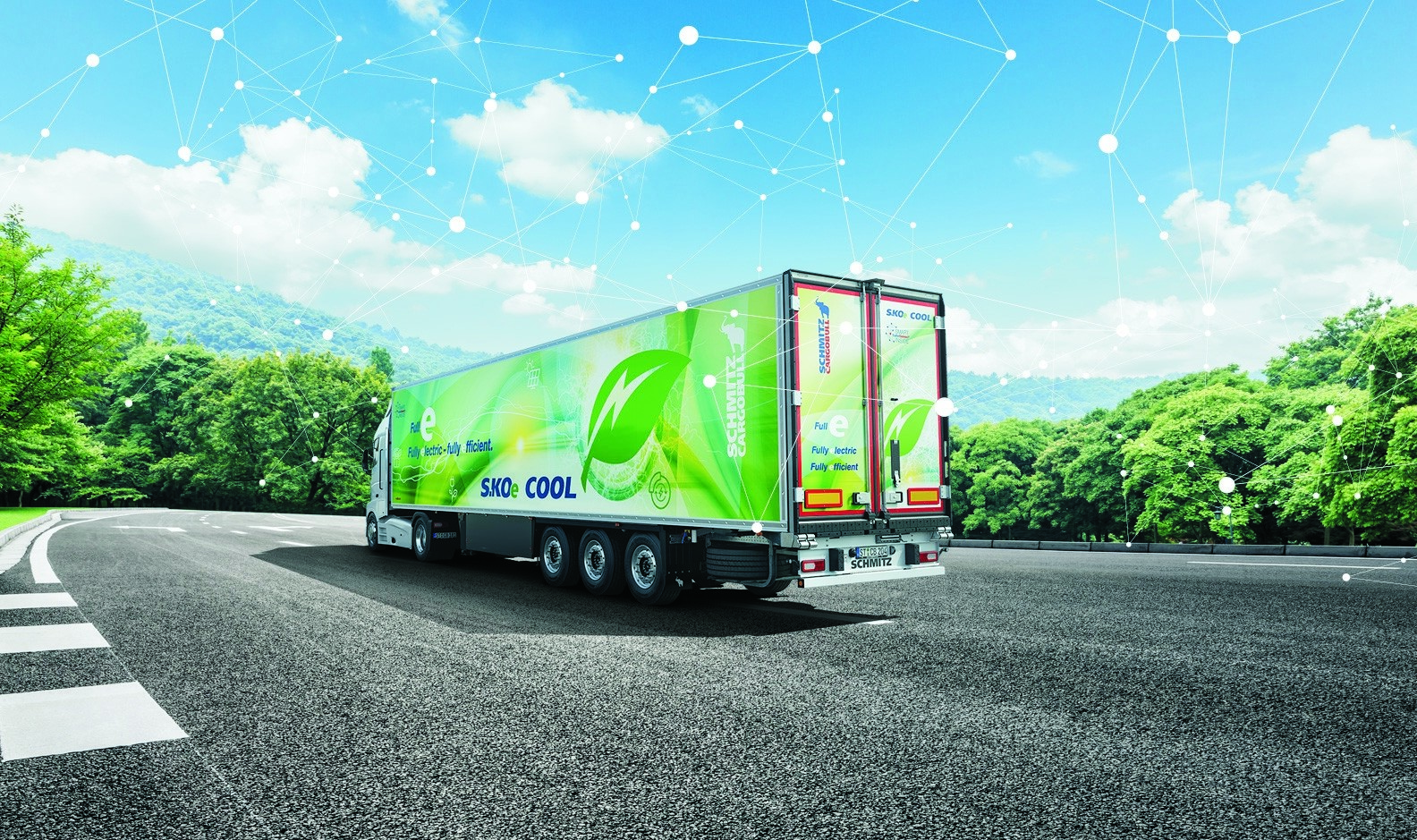 Refrigerated box body with battery-powered cooling unit and trailer axle with energy recuperation for environmentally friendly freight transport.
- with type approval for this semi-trailer model
- up to 100%* fuel and CO2 savings*
- 5 % less fuel for the entire train in practical use**
- full payload - space for pallet box (36 euro pallets)
*electric refrigerated semi-trailer | ** with diesel-powered tractor unit
May 2023 – Emissions legislation is being stepped up. From 2025 onwards, many transport operations will only be possible within 'zero emission zones' in a number of major cities. Schmitz Cargobull has developed its S.KOe COOL all-electric box body reefer semi-trailer with e-axle generator especially for emissions-free delivery.
100 % performance - 0 emissions
The all-electric S.KOe COOL box body semi-trailer is equipped with a fully electric cooling unit with integrated power electronics, a battery system and an axle generator, and thus operates emissions-free. The electrified semi-trailer is also extremely quiet, enabling early-morning and late-evening deliveries in urban areas.

The electrically operated S.CU ep85 cooling unit is designed to cool and heat freight without generating any emissions. It offers a cooling output of up to 15,800 W and a heating output of 10,500 W. Batteries on the landing gear replace the diesel tank and also offer customers the chance to install an extra pallet cage with space for 36 euro pallets. The payload of the fully electric reefer box body with a battery and electric axle is around the same as that of a refrigerated semi-trailer with a diesel unit. The additional weight of the battery in the fully electric refrigerated semi-trailer is almost completely balanced out by the removal of the generator.

The electrified Schmitz Cargobull trailer axle recuperates energy during braking, among other processes, and thus extends the cooling unit's operating time or reduces the recharging times of the battery via the power grid. This also reduces waiting times at distribution centres. An intelligent battery charging management function ensures that the battery's charge level remains as high as possible to provide greater reliability when the semi-trailer is stationary, such as in traffic jams.

Thanks to three pre-defined modes (ECO, STANDARD and SAFE), the semi-trailer can be optimised according to the customer's usage conditions and objectives. ECO mode ensures maximum energy and cost efficiency during refrigerated transport. STANDARD mode delivers cost-efficient protection against cargo spoilage, while SAFE mode provides maximum protection against spoilage. The modes can be selected via the display and keypad on the transport cooling unit or via the TrailerConnect® portal and app.

The generator performance of the electrified axle is precisely matched to the requirements of the cooling unit. The system is fully integrated into the Schmitz Cargobull telematics system, enabling the respective system status such as the battery charge level, remaining range and remaining charging time, to be monitored via the telematics portal.
About Schmitz Cargobull
With an annual production of around 61,000 trailers and with approximately 6,900 employees, Schmitz Cargobull AG is Europe's leading manufacturer of semi-trailers, trailers and truck bodies for temperature-controlled freight, general cargo and bulk goods. The company achieved sales of around €2.3 billion in the 2021/22 financial year. As a pioneer in the industry, the North German company developed a comprehensive brand strategy early on and consistently established quality standards spanning every level: from research and development, through production and service contracts, to trailer telematics, financing, spare parts, and used vehicles.


The Schmitz Cargobull press team:
| | |
| --- | --- |
| Anna Stuhlmeier: | +49 2558 81-1340 I anna.stuhlmeier@cargobull.com |
| Andrea Beckonert: | +49 2558 81-1321 I andrea.beckonert@cargobull.com |
| Silke Hesener: | +49 2558 81-1501 I silke.hesener@cargobull.com |
Image: All-electric box body semi-trailer S.KOe COOL_1

Image: All-electric box body semi-trailer S.KOe COOL_2

Image: All-electric box body semi-trailer S.KOe COOL_3

Image: All-electric box body semi-trailer S.KOe COOL_4

Image: All-electric box body semi-trailer S.KOe COOL_e_axle

Image: All-electric box body semi-trailer S.KOe COOL_cooling unit

Image: All-electric box body semi-trailer S.KOe COOL_battery

Press Release: "Emissions-free and sustainable solution for temperature-controlled transport: the S.KOe COOL all-electric box body semi-trailer"

ZIP-file: Press Release and Images