Emissions-free operation in temperature-controlled transport: The fully electric box body semi-trailer S.KOe  
Refrigerated box body with battery-powered cooling unit and trailer axle with energy recuperation for environmentally friendly freight transport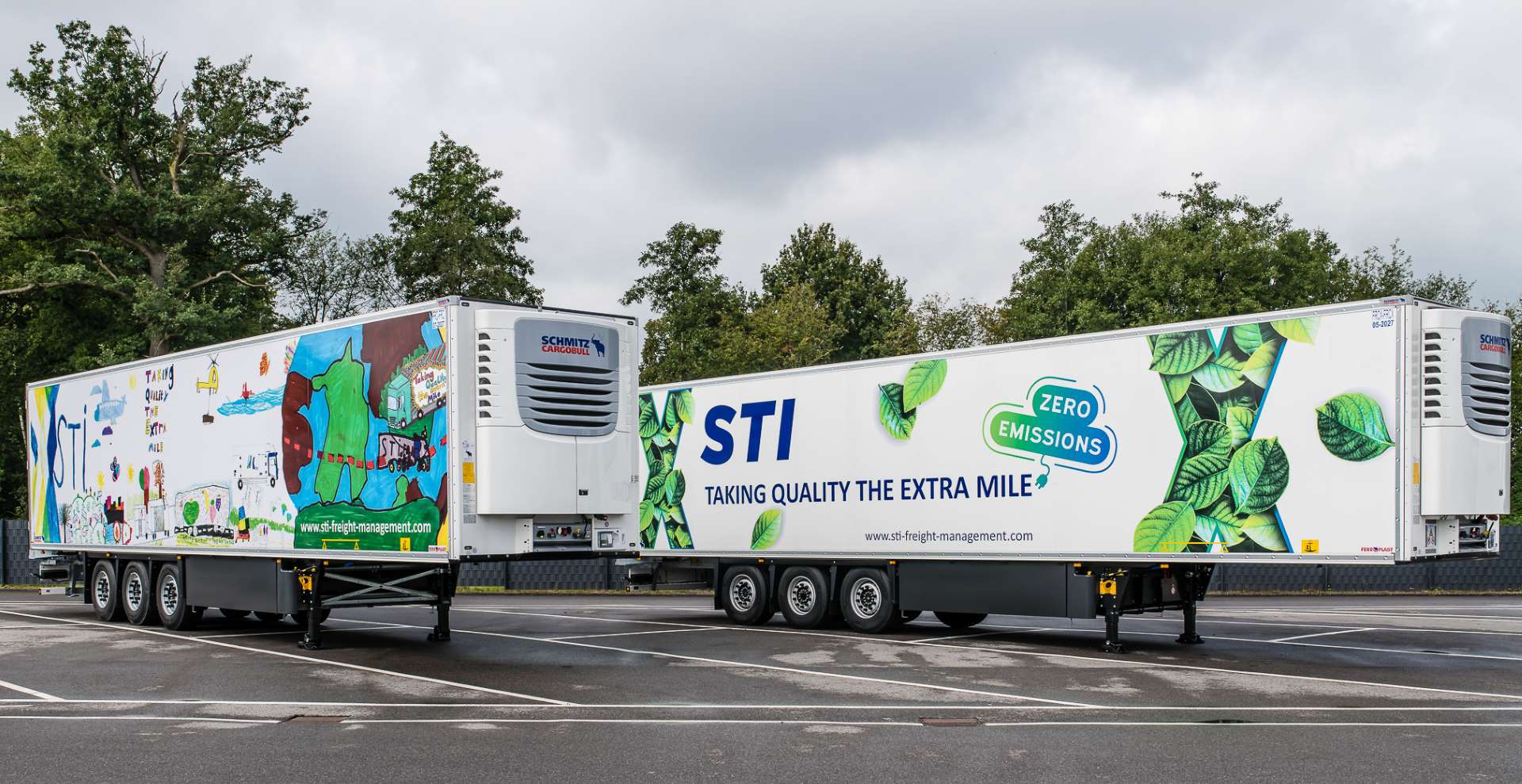 June 2022 – A number of countries are stepping up their legislation and, from 2025 onwards, many cities will only permit transport to take place in "zero emission zones", particularly for inner-city distribution. Schmitz Cargobull has developed its fully electric S.KOe COOL box body semi-trailer especially for the purpose of emissions-free delivery.
Refrigerated box body with battery-powered cooling unit and trailer axle with energy recuperation for environmentally friendly freight transport
The S.KOe COOL is a fully electric cooling unit equipped with built-in power electronics, a battery system and axle generator, meaning that it is almost emission-free. The Piek-certified vehicle is also extremely quiet, so that delivery can take place both early in the morning and late at night in urban areas.
The electric S.CUe cooling unit is designed to cool and heat freight without generating any emissions and offers a cooling output of up to 15,900 W and heating output of 9,100 W. Batteries on the landing gear replace the diesel tank.
An electrified Schmitz Cargobull trailer axle recovers energy when braking, for instance, thereby increasing the cooling unit's operating time and reducing the time needed to recharge the battery from the mains grid. This also reduces waiting times at the distribution centres. An intelligent battery charging management function ensures that the battery' charge level remains as high as possible to provide greater reliability when the vehicle is stationary, e.g. in traffic jams. The generator performance of the electrified axis is precisely matched to the requirements of the cooling unit. The system is fully integrated into the Schmitz Cargobull telematics system, enabling the respective system status such as the battery charge level, remaining range, remaining charging time, etc., to be monitored via the telematics portal.
STI (Deutschland) GmbH, a leading provider of temperature-controlled goods transport in Europe, uses one of the fully electric refrigerated box body semi-trailers.
CEO, Drazan Malesevic, explains what motivated them to add a zero-emissions S.KOe COOL to their fleet: "We don't just want to raise awareness that something needs to change, we want to be proactive and use technological solutions to significantly reduce our CO2 emissions. That's why we decided early on to use an all-electric S.KOe reefer semi-trailer from Schmitz Cargobull," Oliver Exner, Senior Operations Manager STI, explains: "We want to understand how the trailer works in everyday operations and, through consistent data collection over the next two years, determine how sustainable the e-trailer is in our business segment, taking into account the highest qualitative requirements. In this we work together closely with Schmitz Cargobull. If the testing is successful, we will equip most of our fleet with e-trailers in the future. This potentially means that more than 200 trailers would legitimately carry the Zero Emission logo."
O preduzeću Schmitz Cargobull:
Schmitz Cargobull AG je vodeći evropski proizvođač poluprikolica, prikolica i nadgradnji za motorna vozila za temperirani tovar, generalni transport tovara i rastresite materijale, koji godišnje proizvode okruglo 63.500 prikolica i zapošljava oko 6.500 radnika. U poslovnoj godini 2018/2019. ostvaren je promet u iznosu od otprilike 2,29 milijardi evra. Kao pionir u branši, preduzeće iz oblasti Minsterland blagovremeno je razvilo sveobuhvatnu strategiju marke i dosledno primenjivalo standarde kvaliteta na svim nivoima: od istraživanja i razvoja, preko proizvodnje i servisnih ugovora, do telematike za prikolice, finansiranja, snabdevanja rezervnim delovima i prodaje korišćenih vozila.


Schmitz Cargobull tim za štampu:
| | |
| --- | --- |
| Anna Stuhlmeier: | +49 2558 81-1340 I anna.stuhlmeier@cargobull.com |
| Andrea Beckonert: | +49 2558 81-1321 I andrea.beckonert@cargobull.com |
| Silke Hesener: | +49 2558 81-1501 I silke.hesener@cargobull.com |
Press Release + Pictures: Electric Box Body semitrailer S.KOe COOL

Press Release: Electric Box Body semitrailer S.KOe COOL - DE

Press Release: Electric Box Body semitrailer S.KOe COOL- ENG

Pictures: Electric Box Body semitrailer S.KOe COOL