Environmental Impact at a Glance
We are committed to sustainable and responsible use of the environment and natural resources at its sites.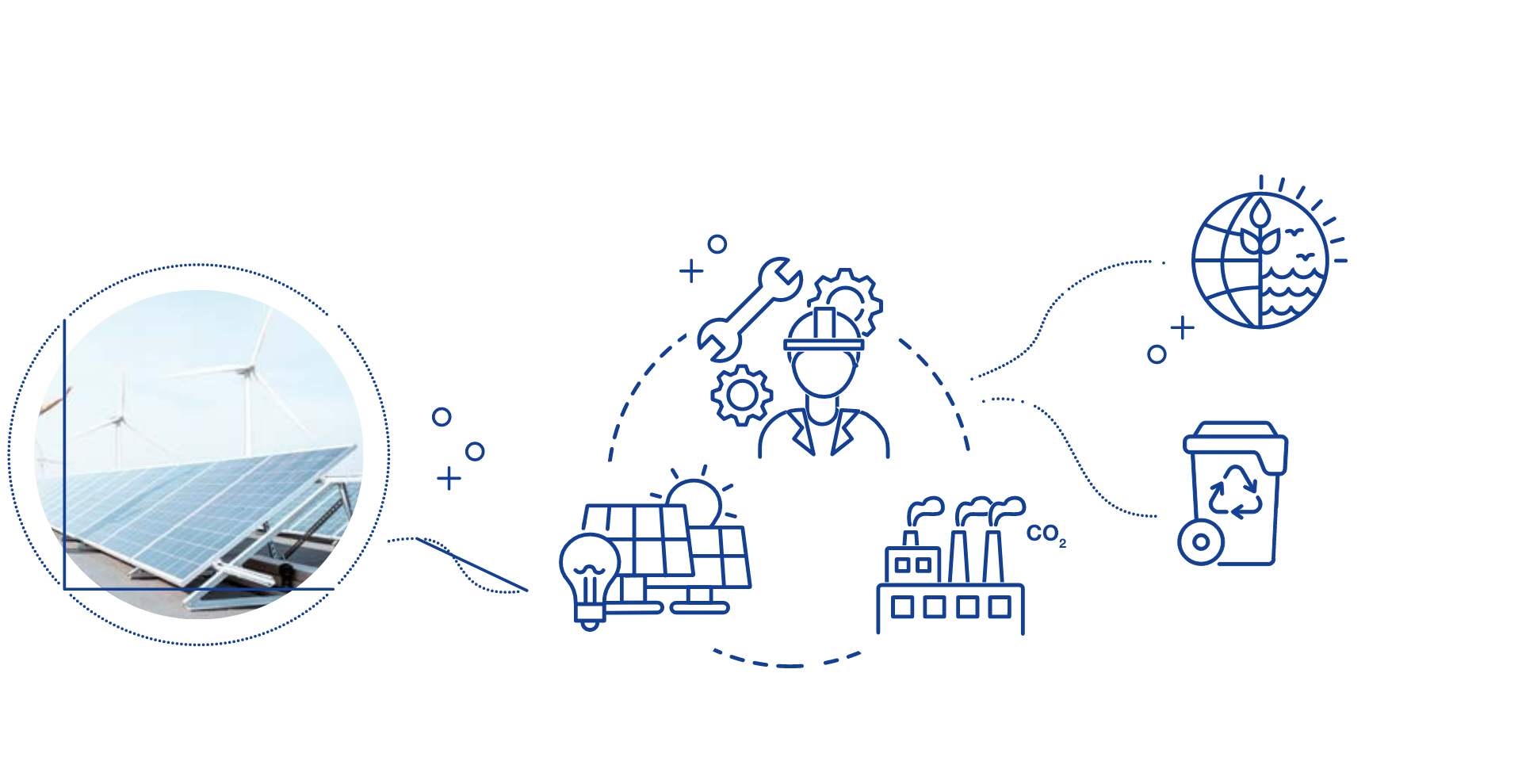 Resource-conscious management
A certified energy management system in accordance with ISO 50001 has been in place at our German production sites of Altenberge, Toddin, Vreden and Gotha and our office buildings in Hortstmar since 2014. Our energy objective is to reduce consumption on an ongoing basis.
Read more in the sustainability report
Reducing energy consumption and emissions
Our goal is to reduce CO2 emissions per trailer by half by 2035. The zero measurement is currently being prepared on the basis of financial years 2019 / 20 and 2020 / 21. The values are being recorded step by step and specifications for implementation in the various plants are being drawn up.
Green power for other plants

For other plants, the increased use of green power is on our agenda, as demonstrated by the project in our new factory in Zaragoza, Spain. In Altenberge, initial discussions are underway with the energy supplier to have all the plant's energy generated by wind power.

Green power for our factory in Spain

Schmitz Cargobull will be opening a new factory in Spain in 2022. The plant in Zaragoza is due to be equipped with 2,300 square metres on its roof. The electricity generated from these panels will be used for production and in the offices. The plan is to produce 700,000 kWh per year. Schmitz Cargobull has invested large sums in this project and we are forecasting five-digit cost savings each year. The project offers further potential for growth, for example by increasing capacity or using storage modules.
Careful approach to auxiliary and operating materials
During our production process, Schmitz Cargobull uses a range of auxiliary and operating materials that are subject to hazardous goods/substances regulations. In some cases, certain environmental stipulations must be observed when using these types of environment-relevant substances.
Clever clogs – Apprentices awarded safety prize
In November 2020, apprentices at the Altenberge plant were awarded the "Schlauer Fuchs" ("Clever Clogs") safety award by the wood and metal workers association in Germany. Our apprentices developed a disposal system that improved occupational safety and ergonomics at work.
Press Release
Efficient and environmentally conscious processes
Use of galvanisation instead of paint:

Entire chassis are no longer painted but are galvanised

instead. Galvanising materials increases their protection

against erosion and improves their durability

Gluing instead of riveting when building insulated

box bodies: Glued connections are more efficient than

riveted ones as they create a flush join, thus reducing the

amount of material needed.


Folding instead of screwing: Folding also creates a

flush join, offering a number of advantages compared to

point-to-point connections. While the strength of these

connections is higher, both their material consumption

and weight are lower.

Use of steel instead of aluminium wherever this

makes sense. In terms of moment of force, steel is

more efficient than aluminium, but the components still

weigh the same. In our refrigerated trailers, we use

steel to improve insulation.

Use of steel instead of plastic: In refrigerated trailers

with large surface areas, steel is used to achieve a

higher strength result and impermeability. Steel also has

a particularly high reusage rate.

Bolting instead of welding: Bolting allows joined parts

to be repaired as needed. No parts need to be disconnected from welded assemblies, welded back in again

before being primed and painted. Galvanised parts can

also be easily replaced for repairs thanks to bolted connections.