Groundbreaking ceremony for new plant in Spain
Schmitz Cargobull plans to further expand its production capacity and market position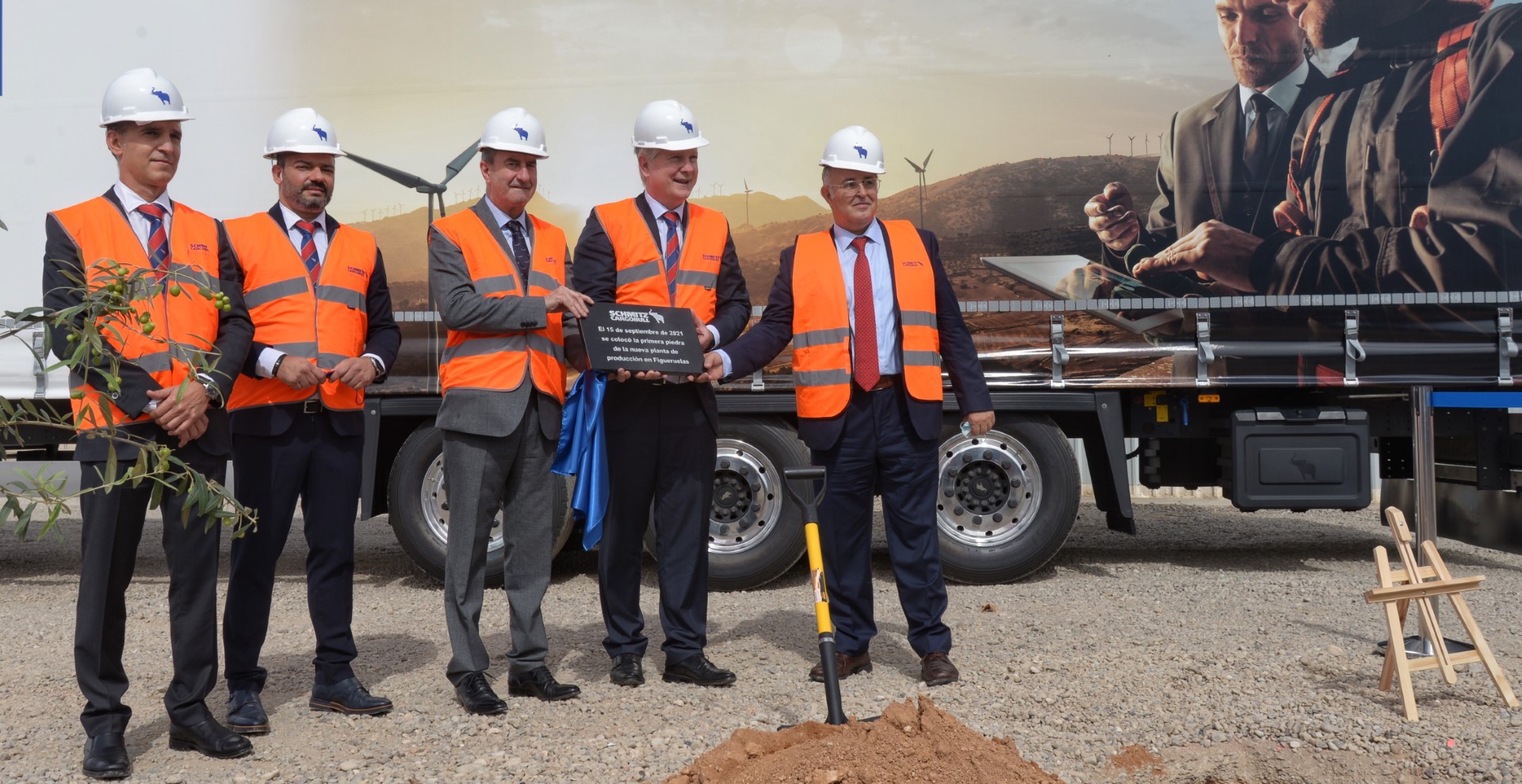 September 2021 – On 15 September, Schmitz Cargobull Ibérica held the official groundbreaking ceremony for its new plant in Figueruelas (Spain). The company is investing around €19 million in the construction of its new production facility, which is scheduled to go into operation in August 2022, with more than 280 employees and a production capacity of 60 vehicles per day.
The new plant, which is being built just three kilometres away from the existing factory, covers a total area of 104,000 m2: 16,400 m2 will be used for production and logistics, 2,000 m2 for offices on three floors, plus a depot housing new and used vehicles.
Production capacity of 60 trailers per day
"I'm very proud of Schmitz Cargobull's development in Spain. When we started this project in 2002, our production forecast was five semi-trailers per day. Today, we are producing 20 vehicles a day and our aim is to increase production capacity to 22 units a day by the end of 2021. With the new production plant and our own new foaming line for the production of refrigerated trailers, we'll be able to produce up to 60 vehicles a day", affirms Andreas Schmitz, Chairman of the Board of Schmitz Cargobull AG.

As at the existing factory, all products from the product lines S.CS curtainsiders, S.KO refrigerated semi-trailers, M.KO truck box bodies and S.BO steel boxes for the Spanish, Portuguese, French, Italian and African markets will be manufactured at the new plant.
In the last five years Schmitz Cargobull Ibérica has doubled both sales and the number of units produced compared to the previous five years, achieving sales of €130 million with around 4,000 units per year.

"Thanks to this increase in demand, our headcount has grown by more than 60% on average. We are now working tirelessly to commission the new facility, which could even enable us to triple the volume," explains Jordi Romero, Managing Director of Schmitz Cargobull Ibérica.
Also present at the groundbreaking ceremony was Carlos Javier Navarro, General Director for Industry (Government of Aragon), who also supported the founding of Schmitz Cargobull Ibérica in 2002. He explained that the Aragon region values family entrepreneurs like Andreas Schmitz, who are able to build a project from scratch, make it grow and consolidate it. Decisions such as the construction of the new Schmitz Cargobull plant confirm that the region is also of interest internationally for companies seeking to establish industrial locations.
About Schmitz Cargobull
With an annual production of around 57,100 trailers and with approximately 6,800 employees, Schmitz Cargobull AG is Europe's leading manufacturer of semi-trailers, trailers and truck bodies for temperature-controlled freight, general cargo and bulk goods. The company achieved sales of around €2.6 billion in the 2022/23 financial year. As a pioneer in the industry, the North German company developed a comprehensive brand strategy early on and consistently established quality standards spanning every level: from research and development, through production and service contracts, to trailer telematics, financing, spare parts, and used vehicles.


The Schmitz Cargobull press team:
| | |
| --- | --- |
| Anna Stuhlmeier: | +49 2558 81-1340 I anna.stuhlmeier@cargobull.com |
| Andrea Beckonert: | +49 2558 81-1321 I andrea.beckonert@cargobull.com |
| Silke Hesener: | +49 2558 81-1501 I silke.hesener@cargobull.com |
Image: Andreas Schmitz at the Groundbreaking Ceremony in Spain

Image: Groundbreaking Ceremony for new plant in Spain

Press Release: Groundbreaking Ceremony of the new plant in Spain

ZIP: Press Release and Images