Service Partner World
Welcome to your Schmitz Cargobull Service Partner portal where you will find all the information about handling warranties, technical support, Cargobull Repair System and spare parts.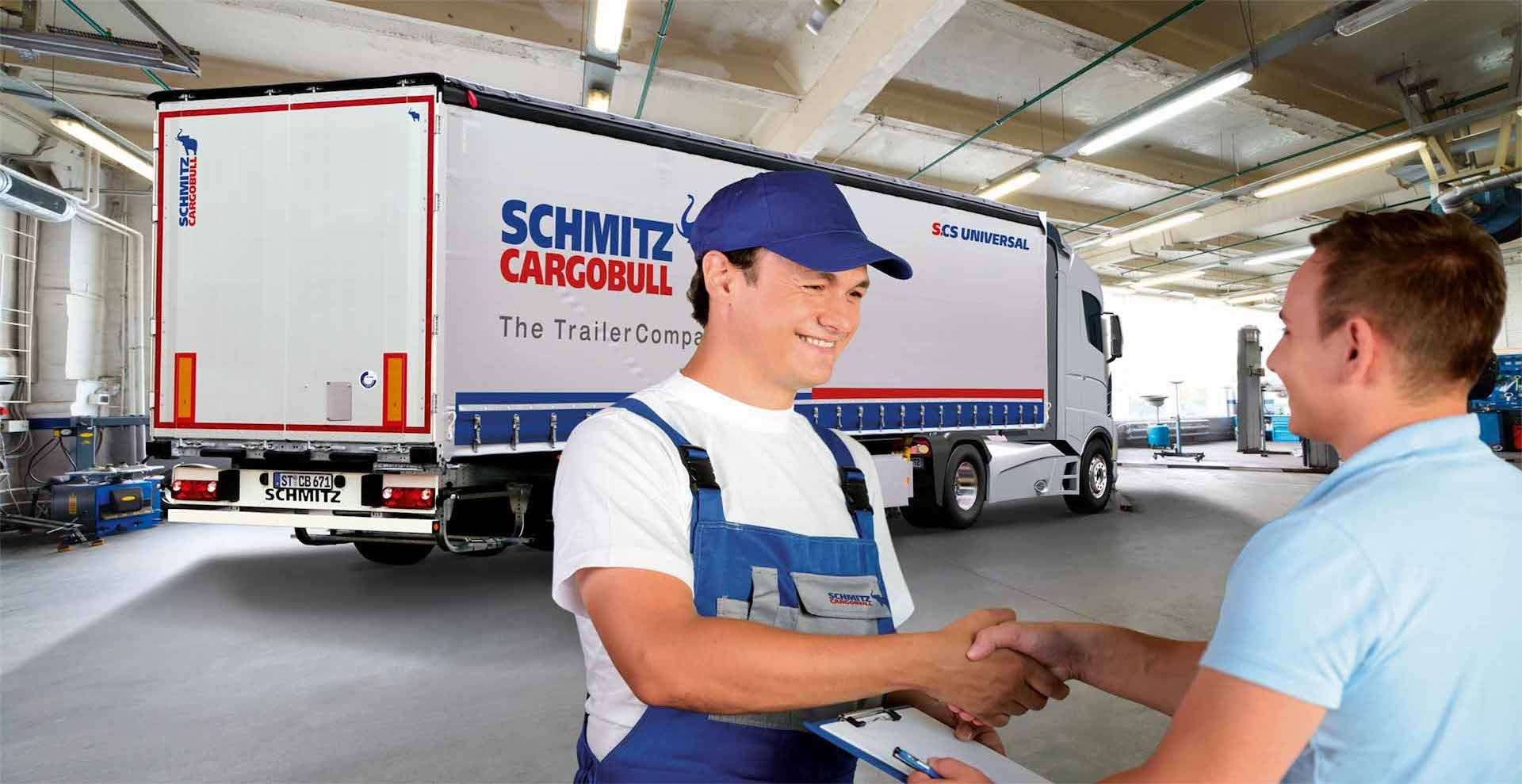 Within the framework of our contractual partnership, as a Service Partner you are authorised to accept and repair Schmitz Cargobull customers' trailers with warranty claims. The work is performed on the basis of standardised guidelines. Note the following:
• Determining the warranty period
• Determine whether the customer's warranty claim is justified or whether it involves faulty wearing parts or malicious damage
• The warranty application needs to be submitted to Customer Service before you can start on the repair

You can access the requisite warranty application here:


In the event of repairs, the workshop is often faced with the task of quickly finding the right spare parts for the trailer repair. Schmitz Cargobull has developed a system specifically for this - the EPOS = Electronic Parts Documentation and Ordering System.
Spare parts can be quickly identified and, at the click of a mouse, transferred directly into your shopping cart and ordered.

The Schmitz Cargobull Online Repair Service (CRS) is available to you in the Service Portal for any repairs, maintenance and inspections you need to perform on trailers with a Full Service contract.
All customer vehicles with a Full Service contract are listed there along with a wealth of supplementary information regarding the trailer equipment, maintenance due and statutory inspections.
Not yet activated in the Cargobull Repair System?
Then please contact us via: fullservice@cargobull.com
Service Partner of the Year
With our comprehensive network of service partners, you always have a competent service partner at your side throughout Europe. When selecting and working with our service partners, we place particular emphasis on quality and reliability. To this end, we conduct regular surveys and award the best service partners with the Service Partner of the Year award.
Apply to become a Service Partner
Are you interested in a service partnership with Schmitz Cargobull?
Our authorised workshops must fulfil the following requirements:

• Workshop equipment, options and quality as per Schmitz Cargobull requirements
• Qualified workshop personnel with the willingness to receive on-going training
• Guaranteed qualified 24/7 breakdown service
• Identification with Schmitz Cargobull products and services in line with our Corporate Identity
• Internal quality management and willingness to undergo SCB QM audit
• Use of the Cargobull service portal with the systems provided by Schmitz Cargobull

This means the willingness to invest in the following:
• Employee training: Initial and advanced training courses from Schmitz Cargobull regarding processing and technical product training
• Latest versions of Knorr and Wabco EBS diagnostics – hardware/software/trained personnel
• Initial stocking of spare parts and their updates
• Tools and software and their updates
• Corporate Identity advertising

There are still country-specific requirements for electrical and refrigeration engineering with regard to the cooling unit.

Please send your application to ASM-EU.Support@cargbull.com and include the self-disclosure.
How does a workshop obtain approval for the CRS system?

Only our Service Partners who have concluded a workshop contract with us are approved for the Cargobull Repair System.

Contact: E-mail:

fullservice@cargobull.com

Where and how do I make a warranty claim?

If you wish to make a warranty claim for a trailer, then kindly contact our central Customer Service at

CWCM@cargobull.com

Where and how can I register for workshop training sessions and which sessions are available?

Where can I order spare parts?

Where can I find CI 'Corporate Identity' equipment for Service Partners?

How can I obtain help with technical questions about servicing or repair?

Our Technical Service Hotline is available to you for all technical queries during our opening hours:
Trailer: +49 2558 81 2888 or sp@cargobull.com
Cooling unit: +49 2558 81 2588 or transportkaeltemaschine@cargobull.com
Contact Cargobull Euro Service on 00800 24 227 462 855 in the event of a breakdown outside of office hours.

How can I find the latest service and repair instructions?

Where can I find software updates I need, say for diagnostics?

Where can I find brake parameters for calibration?

Which tools can I hire and where can I request them?

Changes to company details or contacts in the company. Who do I need to inform?

Please contact your responsible After Sales Manager or e-mail

ASM-Eu.Support@cargobull.com

in the event of a change to your company details or contacts